March 30, 2005
Terri Schiavo
March 28, 2005
Status Report
March 22, 2005
A Break
OSF 3
Part 1
Part 2
Finally, here it comes the third instalment of the Operation Spring Force series. More moonbats, more idiocy and outright evil!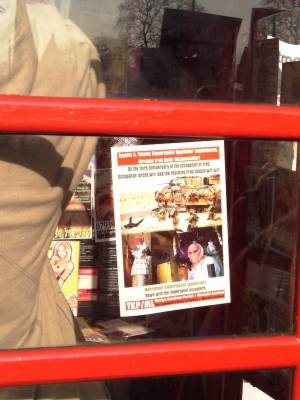 Yes, this is a peace message indeed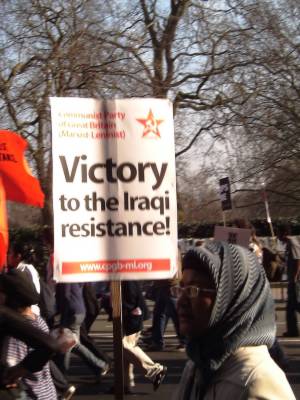 Making the concept clear once again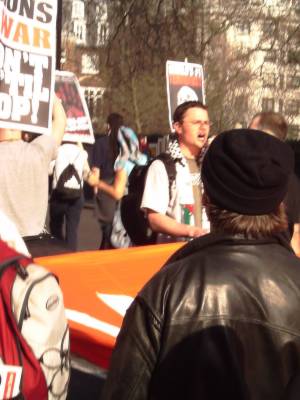 A raving Western moonbat.
With the al-Aqsa mosque scarf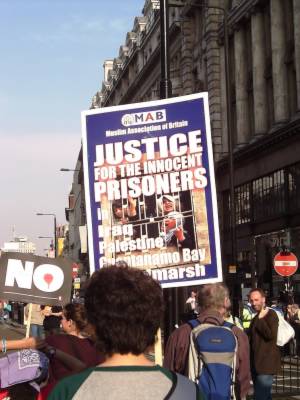 And if some of them is not innocent?
*
DU munitions
are used almost exclusively against armored targets - APCs and tanks, occasionally fortifications - so I think only a small amount of DU was used in Iraq, and only in the initial phases of the operation. But never let the facts come in the way of an anti-Western rant.
Comments (4)
A London Mystery
March 21, 2005
OSF 2
Test 2
March 20, 2005
Operation Spring Force
File Hosting Test
Frustration
March 18, 2005
Greatest Hits
March 16, 2005
Filler #2
March 13, 2005
Hard Decisions
Some More Ballistics
March 12, 2005
Saturday Night Blogging
March 11, 2005
He-te-ro-nor-ma-ti-ve
One Year Later, Madrid
Additions #3
March 09, 2005
Sgrena Roundup
March 07, 2005
Eurocuriosity
March 06, 2005
Liberation & Inconsistencies
March 04, 2005
London Weather Report
March 02, 2005
Operation Body Snatcher 2
March 01, 2005
Operation Body Snatcher 1